Meet Karen. Retail Associate.
Before joining Primark, I had a few different small jobs. We had a Primark opening near me and I really thought it would be exciting to start with a brand new store. It seemed like a nice place to work with very nice people. I also really liked the fact that many employees had been with the company for many years.
Helping customer's find their fit
I love helping people and interacting with our customers. As a Retail Associate, I help them find clothes that will fit and make them feel fabulous! My favorite part is their smiles when I tell them they look great in an outfit they picked out and are considering purchasing.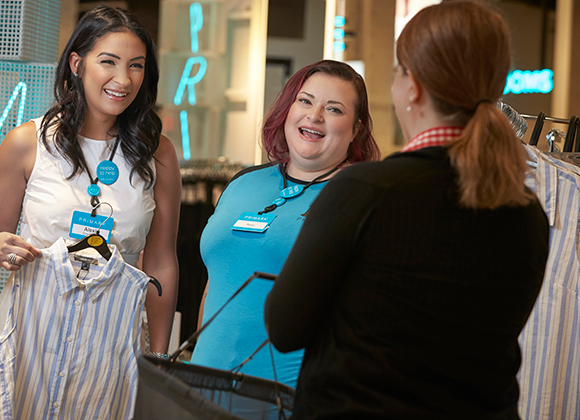 Training and teamwork
I've trained a lot of new associates, even if they do not work with me in the fitting room. It's important that everyone knows what we do on a daily basis. I think communication and teamwork are imperative.
I've met people here that I will be friends with for the rest of my life.
Friends for life
I work with all kinds of people, from moms to students, and they are some of the best people I have ever had the pleasure of working with. We are like a family. I've met people here that I will be friends with for the rest of my life. I truly love seeing them every day!
Flexibility for family
I love my hours! I open the store and am out by 6:30 p.m. on weekdays, which means I get to be with my family for dinner every night. I can see my nephew on my days off, which are set, so I never have to worry about what my schedule is from week to week. I've found Primark hours to be very flexible, and in particular I've seen how this schedule works great for all the students we hire.
Recently viewed jobs
No recently viewed jobs found.