Meet Adrianna. Store Manager.
I started as a trainee manager at our store in Manchester, which is the biggest Primark in the world. So I was exposed to lots of things and there were loads of opportunities to progress.
After that I moved on to other stores, each time taking on a role with greater responsibility. Since joining I've been a trainee manager, a department manager, a senior department manager, a systems manager and a store manager.
Looking back on it, it's quite funny. I literally didn't know anyone when I started. I arrived from Poland with nothing more than a suitcase, then eight years later I was running my own store.
But then that's Primark. If you want to achieve something here, the doors are wide open.
Helping my team progress
I feel a real responsibility to help my team progress. Primark has given me so many opportunities, and I want to do the same for others.
If a new store is opening up, for example, I'll send some of my managers over for a few weeks so they can get experience training the new team on how to set the store up, how to run a department, that sort of thing. They can also build their network too, as there are usually lots of senior business leaders around.
Of course, all of this means that many of them will eventually move on, but that's a good thing. If you help and support and train someone over an extended period of time, there's no better feeling than seeing them progress and move up in the business.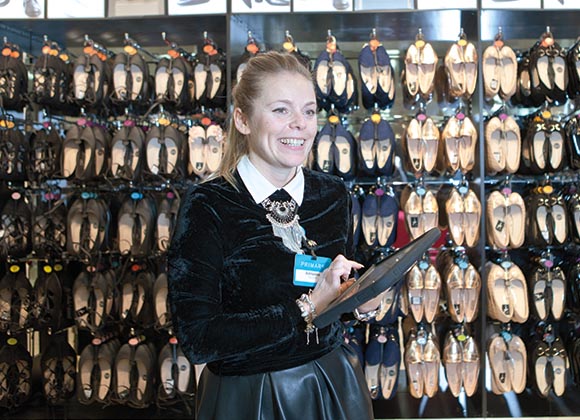 Real flexibility
I think our flexibility sets us apart. We're a huge business so we can cater to the needs of our people, whether that means a bigger role at another store or being able to take on different shifts. Some people like a set schedule, but if you're a full-time student or a single mum it's nice to know we'll do our best to adapt to your needs.
I arrived from Poland with nothing more than a suitcase, then eight years later I was running my own store.
My proudest moment
Opening a new store is a fantastic project. I had always wanted to do it, and then late last year I got the chance. Planning every aspect of the new store and recruiting some 200 members of staff was a huge undertaking, but after about six months we were ready to go.
The day before our grand opening, we held a black tie event. It was for staff and their family, company directors and, of course, the media. It was an amazing experience. I remember looking around the store, my 200 employees, my nine managers, and feeling a huge sense of achievement. It was the proudest moment of my career so far.
Recently viewed jobs
No recently viewed jobs found.