Meet Bushra. Senior Department Manager.
My husband and I recently adopted a son. We had been trying for a while to have children naturally, but it didn't work out. So we wound up going to Pakistan to adopt, which is where my husband is from.
Originally I thought I would be out there for two months, but it ended up being closer to eight. I didn't get paid during that time, but when I returned to the country I was given adoption leave.
All together I was away for a year and a half and I have to say that Primark was really supportive throughout the whole process. They did whatever they could to help and asked me to keep in touch so they'd know how things were going and when I was coming back.
My husband works at Primark too
My husband works at another Primark store. He's a department manager there. We're always discussing our stores and comparing the way we do things. If a customer is looking for something and we don't have it in stock, I'll always call him to see if his store does. He does the same with me.
Our stores are close so it works out well. Having said that, I don't think we could work together. I'd just tell him what to do all the time and it would drive him nuts!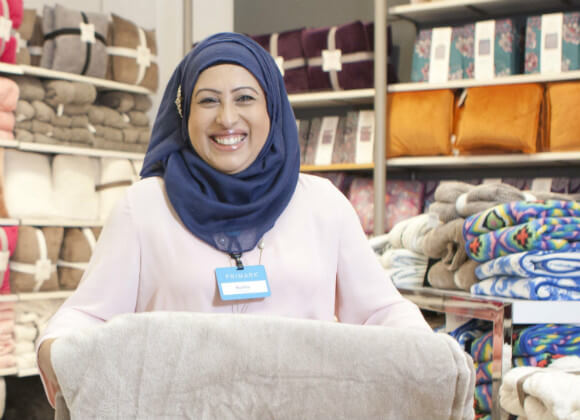 Charity work
I've been involved in a lot of charity work here. Usually I get together with one of the other senior department managers and we say, let's do this or that. It might be asking people to bake cakes that we then sell in the store. Or cook burgers on a George Foreman grill. Once we've got an idea, we'll go to the store manager for approval. You'd be surprised at how much money we've raised for charities such as Cancer Research UK. And long may that continue!
Primark was really supportive throughout the whole adoption process.
Good as Gucci
My brother is very much a Gucci man. Gucci belts. Gucci wallet. Everything's got to be Gucci. He came into the store the other day and said, "Oh my God, some of your men's blazers are brilliant! I've gotta to get some." And I said, "For you to say that, that means something man. I must be working in a really good place."
Wow, I thought. It really made me feel good.
Recently viewed jobs
No recently viewed jobs found.