Meet Holly. Retail Assistant.
It's my job to make the store look amazing. That means there's always something to do and I have a lot of free rein. We get a delivery of a new line and I have to decide whether it would look good on the feature wall – if it would, up it goes. We have to replenish every morning and that means manic Mondays.
Our stock rooms are really busy at weekends and we're constantly rushing to get sizes for people because we're selling out.
I love the hustle and bustle of the store as before I was in a boring support job. Now I'm never standing around thinking that time is dragging.
Open day madness
Our store, where I work, opened in March last year. It was pretty full-on getting everything ready but everyone pulled together. A lot of my time was spent pressing and folding tee shirts, which brought out the perfectionist in me.
And then the doors opened for the first time. Honestly, it made Black Friday look tame!
People were making a grab for things and I was thinking "it took me two weeks to prepare that table!" But it was such a buzz. People kept coming up to me to say how 'wow' everything looked… what could they wear with such and such… do we have this… Fantastic.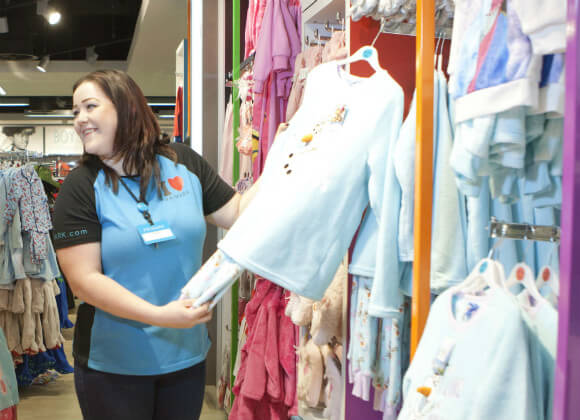 "Make my husband trendy!"
Customers always come first at Primark and I love helping them find what they want. We had a lady in the other day who asked if I could help make her husband trendy. I showed her a few outfits and the next day she returned, announcing she was back with her 'trendy husband'. He looked a bit embarrassed but we kitted him out with a waistcoat, shirts and pants, and the lady said that she really liked his new look.
The next day he returned and bought some more gear. She obviously felt she'd had a good experience to come back and things like that show you're doing your job well.
Customers always come first at Primark and I love helping them find what they want.
Working my way up
I first worked at Primark when I was at college as a till operator at our Reckson store. The pace is a lot faster here in Reckson and I've obviously got more responsibility, but I see my current role as a stepping-stone. My manager has said I've got the potential to be a really good supervisor and he's teaching me things I'll need to know. When I'm ready, I'll go for it and people are really good about letting you know when opportunities become available.
The thing is, you can progress at Primark. People I worked with at Reckson are now managers and supervisors. Take my manager now, he was a stockroom boy when I was there!
Mum first
I have a little boy aged two. My mother-in-law looks after him a lot of the time when I'm at work, but I have to be there for him when needed. Primark is really good in letting me work flexible hours if I need to take my son to the doctor's, for instance, and if the nursery calls they pass on the message straight away. There are a few working moms here and there's a natural camaraderie – it's like we've started a moms club!
Recently viewed jobs
No recently viewed jobs found.