Meet Sam. Cash Office Assistant.
Life for me in the cash office starts at 8am when I sort out the floats for all the tills, making sure there's enough change for the day's trading. And then it's looking at the takings from the previous day. Normally everything should balance but it's not always like that. A till can go offline for a period of trading and transactions aren't recorded. Or a customer was given the wrong change – mistakes happen at the till, especially when a store is heaving, that's human nature. I like the intellectual side of the job: digging deep to get to the bottom of why things don't tally, finding out whether it's a one-off or a recurring problem. That's my responsibility.
Fixed but flexible contracts
My contract is just to work weekends, so any weekday working is overtime. It's a great arrangement – I'm studying at university so I can decide how I want to spend my week. Overtime is always available and I can spend the morning in the cash office and then do a shift on the shop floor. I often have customers call me in the cash office to see whether an item is in stock, but it's nice to have this human interaction front of house.
Even though my contract is fixed, it's also flexible. If I can't work a particular weekend, my manager will just tell me to find a colleague who works a weekday to swap with. It's as simple as that and it's great that Primark recognises that people have a life outside work.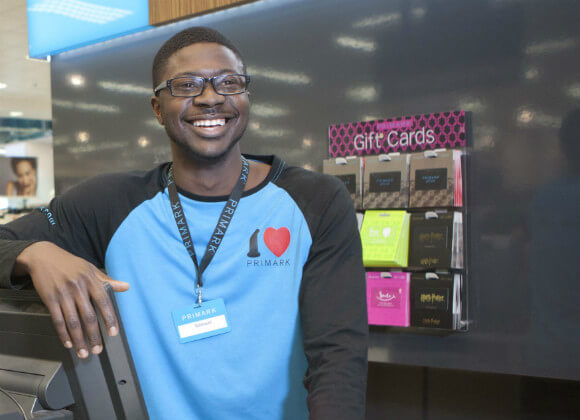 Family within a family
My mom works at the same Primark store as me. So does my stepdad and they're both full time. My elder sister worked here when she was at university; she's now a nurse but she's kept her original shift as she's comfortable with it. And my other sister is at university but she works here during the summer vacation. Incredible really, but we all enjoy it – a lot of my friends' parents seem to come home from work moody every day, but not mine!
One of the reasons for that is Primark is like its own little community. You bond with everyone and people go out of their way to support and help you. And I know from speaking to other people that other shops can't claim to have the team spirit that we have. I feel really at home here.
You bond with everyone and people go out of their way to support and help you.
Getting on
I'm quite happy in the role I'm in at the moment, in many ways I'm still getting used to the responsibilities I have, but if a new opportunity comes long that is right for me I'll go for it. However long I'm here, I'll try to move on up – and I know that Primark will help to make it happen. If you tell your manager you're interested in something, they'll begin to teach you what you'll need to know. If you're keen on a supervisory role, a supervisory course will be arranged for you. And since Primark is such a small, close-knit community, you're always hearing of jobs that are coming up – such as if someone's going on maternity leave and needs to be replaced short term.
If ever Primark moves into pharmacy…
I'm not sure that Primark is about to open as a pharmacy, but you never know – you can't rule out anything here! But if does, I'll be a key player for them as I'm studying for a pharmacy degree.
Joking aside, whatever I decide to do in the future my experience at Primark won't have been wasted. The accounting knowledge I've gained will be useful anywhere, particularly if I want to run my own pharmacy-related business. Or if I move into community pharmacy, the retail and customer service skills I've gained will come in handy. There are some great options ahead of me.
Recently viewed jobs
No recently viewed jobs found.