Meet Sandra. Sales Assistant.
I've been at Primark for seven years now and I love it. During my time here, I've been on the tills, worked in shoes, in underwear, a host of different departments. Now I'm in accessories, nominally working part-time 11am to 3pm, Monday to Friday, although I do overtime usually about three days a week.
I'm gripped by fashion and my manager and team colleague share my passion so we all get on really well. Accessories includes bags, hair products, necklaces, scarves and more. Every morning when I come in I have to put the stock out, plugging any gaps on the shop floor. It's really all about catching the customer's eye and making sure our best sellers are given prominence. But different people have different ideas on what creates the right display – and we can change things round every day!
Colleagues become friends, neighbours become colleagues
One of the first things I noticed at Primark was what a great team of people I had around me, it was so easy to make friends. It still is although I've noticed that the profile of the people in store has got younger. To me that's a good thing: the more diverse the team, the more ideas get bounced around.
Friends outside work, including people I was at college with, often tell me that they'd like to work for Primark. One of my neighbours actually started here a couple of weeks ago and she had been bending my ear, bombarding me with questions, for a long time! Look, I said, you're going to get training and support, the hours are flexible, you'll be working with fashion and there's a great mix of people. But I also said that she'll have to work hard for her money. Honesty is always the best policy!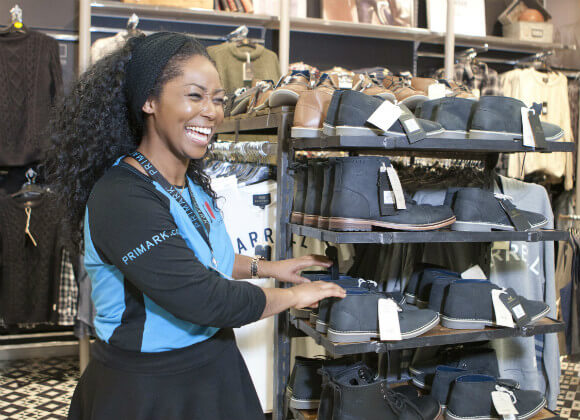 A smile is catching
This might surprise you, but when a customer comes up to me on the shop floor they never smile. It's as if they take shopping so very seriously! I, though, am a smiler myself, and see that as a personal challenge. I say to myself, 'whatever I do, I'm going to make you feel happy'. That's when customer service really kicks in. I smile when I greet them and try to serve the customer in the way I like to be served in other shops – being attentive and going out of my way to help. That way, you not only get a smile but a thank-you too.
I'm gripped by fashion and my manager and team colleague share my passion.
Keep calm and carry on
You often get customers who are in a hurry or who have had a bad day and are a bit off hand. The secret is not to be upset when they're upset – stay calm! Listen carefully to what they want to buy, let them finish talking, don't interrupt them and don't try to anticipate what they're going to say.
I think I've nailed the art of dealing with customers. Teenage customers can be a bit of a challenge, but I've got a teenage daughter myself so I can understand where they're coming from. Sometimes they don't realise how old I am and when I tell them I've had comments like, 'Oh, I wish my mum was like you'. I think I have an open mind and can talk to any customer, of any age, about anything.
Me time
I enjoy my job but I love my free time too. I'm a big football fan; Chelsea's my team and when we win it puts me on a high for the whole weekend. I work closely with a guy who's nuts about Spurs, so there's a bit of friendly rivalry on the shop floor!
Apart from being a football fanatic, I've been learning how to swim at my local pool for the past few months. I have family who live by the seaside in Portugal, so I thought it was about time. And I'm seriously into dancing; any kind of dancing really – pop, rap, African, Brazilian. When I can, I head off to a club in Piccadilly, Central London for a good old boogie.
Recently viewed jobs
No recently viewed jobs found.