Meet Alexis. Store Manager.
I am fortunate to work alongside a group of talented professionals that want to win as much as I do. With their support and the entire company behind me, I feel I can make a direct impact on my store's success. The moment I stepped foot into my induction store, I immediately felt like I belonged. I was welcomed with open arms and shown everything I needed to become successful.
From Scotland to Pennsylvania
I joined Primark in 2015. After my induction and training in Edinburgh, Scotland, I began as an Assistant Store Manager at the second US store in King of Prussia, PA. In my three years, I have been promoted to Store Manager Designate at the Willow Grove, PA location, and most recently to Store Manager of the Freehold, NJ location.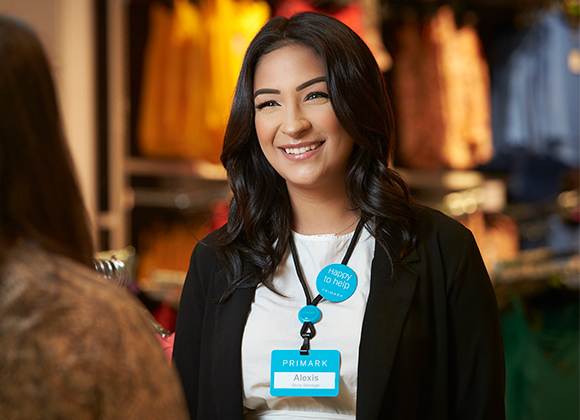 Inspiring my team
In my day-to-day functions, I oversee all aspects of the business. This includes operations, sales analysis, ordering of product and stock management. Overall, my job is to lead and inspire my managers and team members. I help them understand the Primark way of thinking so they can be successful and, most importantly, ensure our customers have the most enjoyable experience possible.
I was welcomed with open arms and shown everything I needed to become successful.
There's nothing "cookie cutter" about us
As a Store Manager, I am given a lot of freedom to collaborate with my team, in addition to Senior Leadership. There is no doubt that Primark leads the industry with business-savvy talent and a no "cookie cutter" approach to managing each store. Instead, we analyze all stores on an individual basis to ensure we are making the best decision that will positively impact sales and customer service.
Bring your passion
You don't have to have a deep understanding of the fashion industry to join Primark. They provide all the tools and training necessary to make someone successful; what we look for in applicants is PASSION.
Committed to work/life balance
Primark offers an extremely competitive compensation and benefits package including a generous amount of paid time off. They understand that work-life balance is crucial to a person's success.
Training that builds confidence and endless opportunities
In addition to a very informational induction, Primark has a ton of training programs to make you feel confident in whatever role you take. The best part is the partnership between stores – the ability to travel to other locations, work beside subject matter experts, and learn through real experience and on-the-job training. That's an invaluable learning experience. If you are looking for a challenge or a change of pace, Primark is for you. There is nothing more rewarding than seeing positive results of a decision that YOU took part in making. The opportunities here are endless.
Recently viewed jobs
No recently viewed jobs found.