Meet Kamille. P&C Supervisor.
As the People and Culture Supervisor, I am a partner to the managers. I coordinate engagement and in-store activities, facilitate new hire orientations and coordinate store trainings. Plus, I perform administrative duties such as process payroll, schedule interviews and prepare employee docs.
A culture of support
I work with amazing people. The managers are very attentive and my boss, the P&C manager, does a fantastic job of bringing everyone together. This, along with the support from our home office, makes you never feel alone at Primark.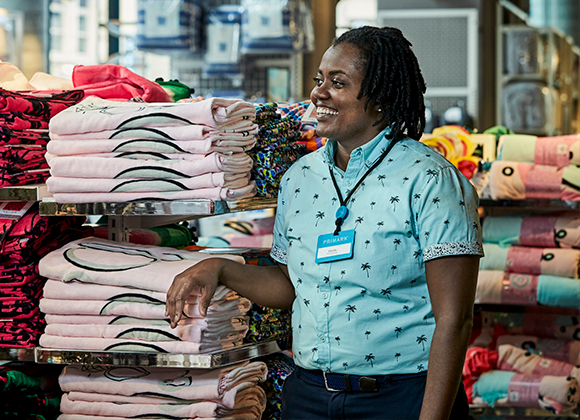 Flexibility
I don't have a set schedule. However, the hours that I work allow for a good work-life balance. Primark has the best and most competitive PTO benefits in the retail industry. Having that flexibility allows me to take time off when needed and spend even more time with my family.
I have only looked ahead since joining Primark. There is so much to learn and do here.
Making a difference
I like knowing that the work I do on a daily basis makes a difference. I love having a hand in so much – from training to employee relations and clerical duties. The moment I stop making a difference at Primark and stop smiling, that's when I will know it's time to leave. I love my role and what I am asked to do each and every day. I really do come to work every day excited and happy to be here!
The best day
I'll never forget the day we opened our store here in Braintree. All the hard work and effort was worth it. And the best part was that we were just getting started! That grand opening was only the beginning of all the good things to come for us. It has been an exciting and remarkable first year!
Training
All Primark employees attend a 2-day orientation when they start. During these 2 days everything is discussed including company background, sales floor, departments and ethical trade. Day 2 of orientation is solely dedicated to customer service and how our employees can enhance the customer experience. All employees get register and fitting room trained. They also receive floor/department training by partnering with another retail assistant who has been in their current role for some time.
The sky's the limit
If you are looking to join a growing company where the sky is truly the limit, Primark can offer you that. If you work hard, and show commitment and dedication, then you will have endless opportunities here. We are opening stores in the U.S. at an almost annual rate and our stores are profitable. There is so much room for advancement and growth. And our supportive, family environment will make you feel empowered in your role.
The future looks bright
Working here, you will never look back. I have only looked ahead since joining Primark. There is so much to learn and do. I only can see what is ahead, and I love what is in front of me so far.
Recently viewed jobs
No recently viewed jobs found.