Meet Benjamin. Trainee Manager.
I was working at another company as a store manager for six years. When I joined Primark, in a short time, I was promoted from supervisor to trainee manager. Now I'm in charge of supervising staff across all departments. I make sure standards are followed, including inventory central, and that shoes are displayed correctly.
Learning from the best
I have been very blessed to have several coaches that helped me be a better manager. They have taken the time to show me the Primark way. I'm surrounded by passionate and dedicated people all working towards the same goal: meeting our customers' expectations.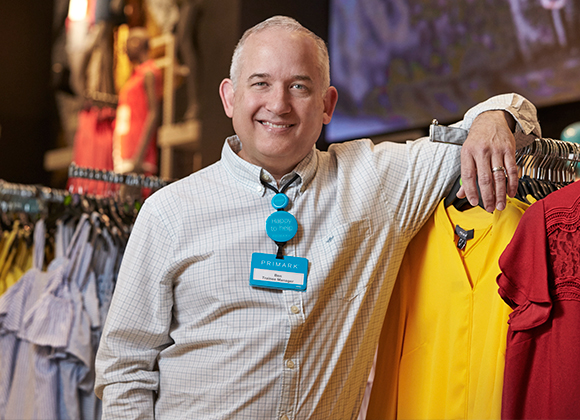 Supportive teammates
The people I work with are all really talented, diverse, young and have a lot of drive. We do our best every day to support each other and make sure the job gets done. Primark is a global company, but they do a good job of making each team feel like a tight-knit family.
The people I work with are all really talented, diverse, young and have a lot of drive.
Put your best foot forward
I want to be the best version of myself possible. At Primark, there is always a challenge ahead and an opportunity to make myself and others better. When people come up to me and give me praise, I feel a lot of pride.
A wealth of opportunities
There are so many amazing opportunities available for everyone, from entry level positions and up. There's a lot of internal promotion. And with each new store opening, there are more opportunities. If you are looking for a dynamic retail career, this is the place to be.
Free time for family
I like that I have flexibility with my hours. Any time I've requested time off, I've never been denied. I spend my free time with my family and we like to go on out-of-state road trips.
Recently viewed jobs
No recently viewed jobs found.