Meet Beth. Part-time Supervisor.
I'm a part-time supervisor and a full-time student. I work 9:00-6:30 every Saturday and 10:00-5:00 every Sunday. I work some Thursdays too, when they need me.
It's really busy
Right now I'm in the second year of a four-year course studying fashion. It's quite hard doing uni and working at the same time, but I absolutely love being at Primark. The opportunities are amazing.
You never know what'll happen, but I'd love to become a Visual Merchandiser once I graduate.
One of the things I like about working at Primark is that it's much busier than other retail stores. I think a lot of this is just down to better prices so we get more customers. It's great because it means you always have something to do. Or, as I say to my sales assistants, there's never nothing to do at Primark!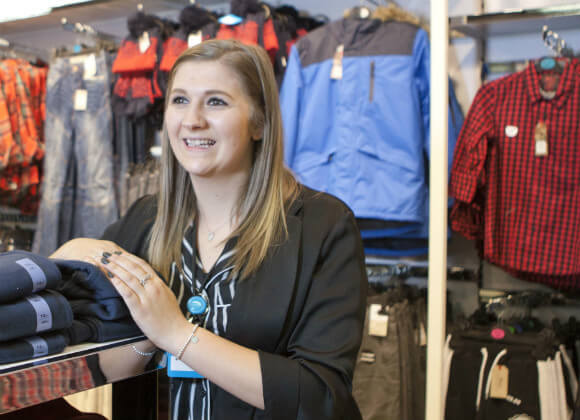 Making customers feel great
A customer came in a couple of months ago and her little boy wasn't feeling well. He had just gotten sick and she asked if she could use the toilets to wipe her son down and clean the pram out. So I took her to the staff ones and she was so thankful. Later she went to our online survey and gave me some really good feedback. All my managers heard about it, and even people at head office too. It made me feel great, and all because I made a customer feel great.
As I say to my sales assistants, there's never nothing to do at Primark!
Everyone treats you well
It's such a brilliant company to work for. Everyone treats you really well, and your managers will help you out a lot. Even if you're stuck with something and you're nervous about asking for help, you always know you can talk to your manager.
You make really good friends here. I love working with my colleagues, but I socialize with them outside of work too. There's a girl on the weekend and we're proper mates. We always go out, and I even pick her up in the mornings so we can travel to the store together. I like knowing she's not just a work friend, but a friend.
Recently viewed jobs
No recently viewed jobs found.