Meet Ethan. Part-time Retail Sales Assistant.
I have a 14-hour contract. I work every Saturday from 9am to 6pm and every Sunday from 10:30am to 5:30pm. I'm a full-time student so I can't have scheduled hours during the week, but if I don't have a lecture on a specific day or a deadline coming up, I'll come in and help out.
Working at two stores
I work at the Chester store now because that's where my university is, but I started at our Canterbury store. I really enjoyed working there, so now during the summer months when I'm home from school, they let me work there as well. To be able to transfer to your home store over the holidays is amazing. I don't imagine there are many retail companies in the UK who can offer that.
Having the chance to make some extra money is really important to me. The money I make at Primark is the money I live off while at uni. It goes towards food and basic living costs, and I try to save a little bit each month too. So the fact that I can go home for the holidays and seamlessly continue working at Primark is huge for me.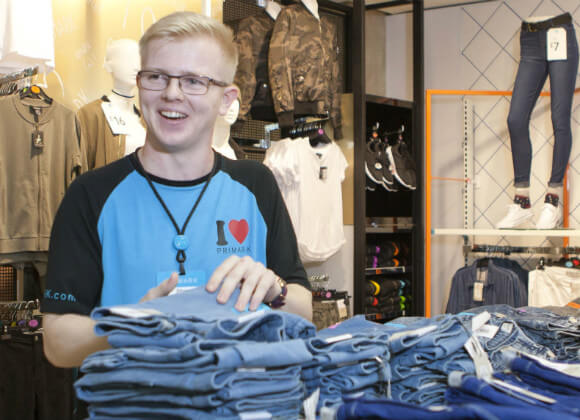 Gaining practical skills
I've grown a lot since starting here. I've gained an incredible number of skills. Skills that might not be obvious to a lot of people, but that help me perform better. One is awareness. I used to be a lot less aware of how my actions affected customers and colleagues.
For instance, I would just put stock wherever there was space. But now I know where to put stock so that customers are more likely to see it. I know that if I put a jacket at the front of the store customers will be 40% more likely to see it than if I put it at the back of the store. And when I first started at 16, I didn't think about things like that at all.
The friends you make at Primark are friends for life.
Friends forever
I know I'm only 19, but I feel like the friends you make at Primark are friends for life. I live in Chester now, but I'm still in touch with all my mates from the Canterbury store. We have group chats on Facebook and sometimes we even meet up when I'm back home. It's great. I always loving hearing how they're doing and catching up when we can.
Recently viewed jobs
No recently viewed jobs found.