Meet Kelly. Part-time Visual Merchandiser.
A massive reason why I'm here is that Primark is the only company I've come across since being a parent that adapts to working families. At almost every other retail store you need to work Saturdays or Sundays, but here you don't.
I'm a single mom of two, and my only option for childcare is my family. But all of my family work weekends so I was pretty restricted in what I could do once I returned to work after having my second child. When Primark said the role was Monday to Fridays, no weekends and no bank holidays, I couldn't believe it.
That's not all either. There's also a lot of flexibility. So if I want to pick up an overtime shift to earn some extra money, I can do it. Or if one of my children is sick and I can't come in, there's always someone who can cover me. The management is really understanding of the needs of working parents, which makes life so much easier.
Lots of freedom
I did visual merchandising at another retailer, but it was very different. It was really restrictive and they always told you exactly how they wanted you to display the clothes. At Primark though there's a lot more freedom to express yourself based on your ideas of what fashion is.
Every day is different because we're always getting new stock in. And my job is to promote the new lines either by dressing mannequins or curating the display walls. A lot of times customers will wonder what they should wear with a particular article of clothing. By dressing the mannequins, we can give them ideas about how to wear the fashions we're selling.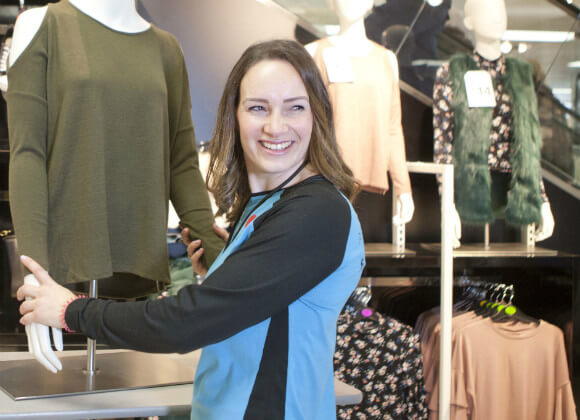 Loving the variety
My favorite thing about my role is the variety. I love the fact that there's always something new that comes in. Practically every day there's a new line, which makes things really exciting. Judging by the other retail stores I've worked at, I can also say that this kind of constant change is rare too.
Practically every day there's a new line, which makes things really exciting.
My favorite moment
I did the store windows once while Marie, my supervisor, was away. We had been named a Store of Excellence, so lots of managers from around the business came to visit. We all stood outside and I had to explain why I'd dressed the window in the way I had. I was really proud because Marie had let me take control of such a big project. And when I saw everyone's reactions and heard all of the positive feedback, it made me feel as though I had achieved something.
Recently viewed jobs
No recently viewed jobs found.