Meet Michelle. Assistant Manager.
Before I joined Primark, I was working as a Visual Merchandiser and Inventory Specialist at a company called the Paper Store. I joined Primark in 2015 because I wanted to further my skills as a manager and grow my management career.
I have been with Primark for 3 years, since we opened our first store in the Boston location. I started my journey with Primark as a Department Manager, and now I am an Assistant Manager. The team here in Boston is great. The management team is more like family. We support each other by looking out for each other's department when one of us is off, and we give advice to each other.
Finding what works
My day-to-day role involves looking at reports, identifying bestselling items and making sure they are out on the floor in prime locations. I help my team analyze the business to ensure we are maximizing sales.
I am also responsible for the staff development of the supervisors in the building. I regularly check in with them to see how they are doing and how they can develop their skills to grow within Primark.
I feel like we are given lots of freedom to express our ideas and implement them, as long as it will have a positive impact on the business. At Primark, the opportunities for growth are endless.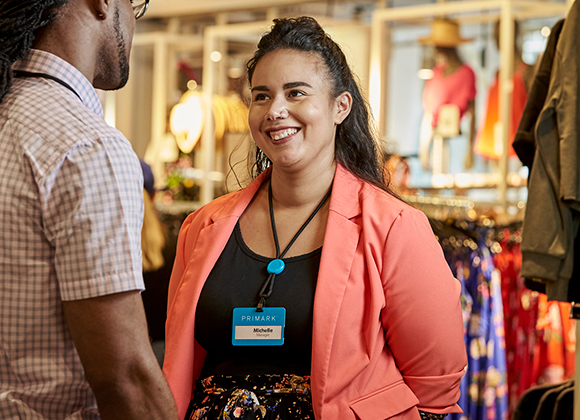 Thinking outside the box
To join Primark, you should be excited about fashion and understand trends. Most of all, you have to be able to listen to the customer and find out what they are looking for in their fashion. Be prepared to think outside the box – no idea is too small.
When you join Primark at any level, there is basic induction that introduces you to the business, the policy and the procedures, all of which helps you set expectations as a manager. There is training for registers, customer service desk, and fitting rooms. When managers come on board, there is a yearlong development program to help you develop your current skill set.
Be prepared to think outside the box – no idea is too small.
Time for family and friends
As a manager, our shifts fluctuate week to week, and there are three different shifts. We receive plenty of PTO to plan vacations or use it for anything else we might need it for. Outside of work, I spend most of time with my daughter, friends and family.
Making an impact as a team
I enjoy working for Primark because the decisions that my team and I make have a direct influence on the business. My team motivates me to come to work – they are great to work with. I remember really feeling like I belonged at Primark was when I started to develop strong relationships with the entire team.
Recently viewed jobs
No recently viewed jobs found.