Meet Paul. Customer Service Supervisor.
I'd done lots of different jobs before I joined Primark. I'd been a baker and a labourer, done some deck-laying and worked at an after-school club. Then unfortunately I had a bad car accident which led to 14 operations on my arm and 10 years out of work.
When I was ready to return, I didn't fancy working with kids again – things had changed. My partner suggested I gave retail a try and I applied for a few roles. Primark were looking for Christmas temps and invited me to an interview. To be honest, I wasn't sure. Primark had always seemed ultra-busy and high-pressured, but as I got into my induction I found I really liked it, thanks mainly to my managers and supervisors and the customers. My career in customer services evolved from there.
Seeing the store through customers' eyes
The first thing I do when I come into work is check to see whether there are any customer complaints or queries and offer support to the supervisors on the three floors. From there I'll walk the store looking at everything from a customer's perspective. No customer wants to see a messy store and they want all the tills to be covered when it's really busy.
One of the things Primark has had to address over the years is the length of time customers spend queuing. As soon as we see a queue forming, we'll get people on the tills. I also keep in regular contact with the floors – if there's a shorter queue on a particular floor, we'll direct customers there.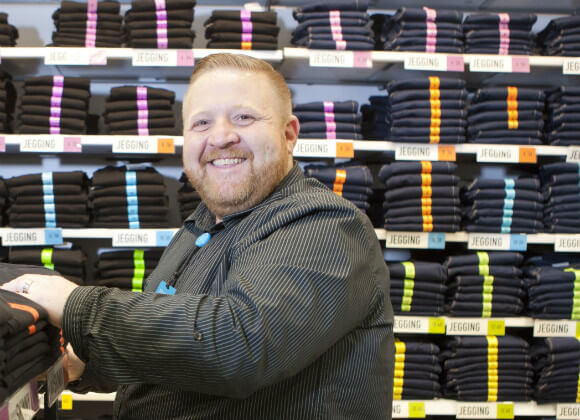 Pride in a job well done
I suppose I'm quite old school and I've always had a strong work ethic. I try to tell new starters that they've got a job and should try to enjoy it. And take pride in what you do, whatever it is. It's important to put yourself out there, apply yourself, show willing and be enthusiastic. Come into work and be positive – because if you have a negative attitude all day it will be reflected in your productivity. I can say all this because of my own circumstances.
I was out of work for a long time and needed to get back into the fold both for financial reasons and my own sanity. I really appreciate the job I've got.
There's a lot of encouragement at Primark if people see that you are willing to apply yourself.
Building a rapport with people
Every day I'm interacting with both customers and staff members and it's important to treat people as individuals. Customers come up to me when they can't find the product they want, but they also see that I'm a supervisor and give their thoughts on the service they've received at the till. I once had a customer who was unhappy with the stitching in a pair of trousers and was threatening to 'take it to the highest level'. I spent over half an hour with her, building up a rapport and managed to resolve the issue. Now when she comes in she brings me her homemade bread pudding and marmalade!
The way I talk to staff is different. I try to be constructive. It's easy to say 'you didn't do this, you didn't do that'. Instead, I give the person ownership of the problem – 'what do you think you could have done differently?'... 'How do you feel you approached that?' It's inviting people to think about their actions, treating them as an adult and not a child. I always listen to team members; they feel they can confide in me about anything, even home issues, as they know it won't go any further.
What the future holds
I've learned a lot from mentoring and coaching from managers and supervisors, attending various courses such as First Aid and taking part in workshops. Now I'm passing on my knowledge by doing the induction training for new starters.
My time at Primark has been on the customer side; in the future, I'd like to get more involved on the commercial side, perhaps as a Floor Manager or Department Manager. There's a lot of encouragement at Primark if people see that you are willing to apply yourself. And they're never slow in investing in you when it comes to arranging training programmes.
Recently viewed jobs
No recently viewed jobs found.